You can touch this Senpai, Because it is stupid like Midori
The delinquents are a group of students that currently stand near the incinerator. Like the placeholder nurse and Rival-chan, they are not fully implemented and cannot be recognized by Info-chan.
Les délinquants sont un groupe d'étudiants qui sont actuellement debout près de l'incinérateur. Comme l'infirmière placeholder et le Rival-chan, ils ne sont pas entièrement mis en œuvre et ne peuvent pas être reconnus par des Info-chan.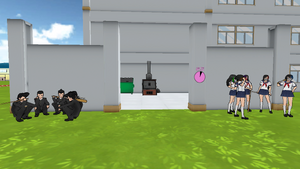 Delinquents are currently invincible. In the game we currently have 10 delinquents total, 5 male 5 female.
Les délinquants sont actuellement invincibles. Dans le jeu nous avons actuellement 10 total de délinquants, 5 mâle 5 femelle.
Female Delinquents/ Délinquants Féminins
Edit
Midori Kuroba (Placeholder Name, Green Crowbar)
Midori Kuroba (Placeholder Nom, Levier Vert)
Aka Paipu (Placeholder Name, Red Pipe)
Aka Paipu (Placeholder Nom, Pipe Rouge)
Murasakino Shinai (Placeholder Name, Purple Shinai)
Murasakino Shinai (Placeholder Nom, Shinai Pourpre(Violet))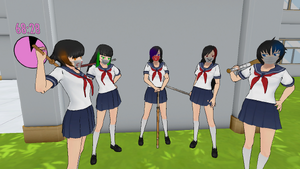 Ao Komori (Placeholder Name, Blue Bat)
Ao Komori (Placeholder Nom, Chauve-souris Bleue)
Do Bokken (Placeholder Name, Copper Bokken)
Do Bokken (Placeholder le Nom, Cuivre Bokken)
Male Delinquents/Délinquants Masculins
Edit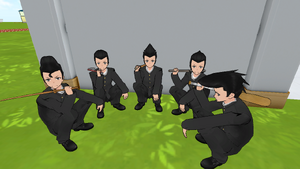 Daku Paipu (Placeholder Name, Dark Pipe)
Daku Paipu (Placeholder Nom, Pipe Sombre)
Yoru Komori (Placeholder Name, Night Bat)
Komori (Placeholder Nom, Chauve-souris de Nuit)
Burakku Kuroba (Placeholder Name, Black Crowbar)
Burakku Kuroba (Placeholder Nom, Levier Noir)
Kage Bokken (Placeholder Name, Shadow Bokken)
Kage Bokken (Placeholder Nom, Suivez Bokken)
Kiken Shinai (Placeholder Name, Danger Shinai)
Kiken Shinai (Placeholder Nom , Danger Shinai)